Yoga and meditation are ancient practices, which have become increasingly popular in many parts of the world. Regular yoga practice helps to prevent many diseases and illnesses. Yoga provides physical and mental health benefits for people of all ages. It not only helps in making your body strong and flexible, but yoga also helps with recovering from surgery or managing life with a chronic condition. One can join regular yoga through yoga institutes. It is always recommended to do yoga under the supervision of a qualified yoga instructor. Many health clinics also conduct Yoga Classes nowadays.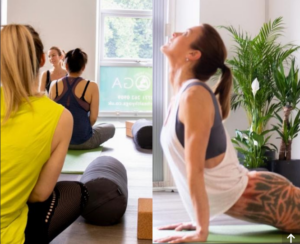 A yoga therapist can work with yoga students experiencing symptoms related to long-term illness or recovery after a long-term illness or medical procedure. By putting together individualized plans that work with their medical needs. That way, yoga can support the healing process and help the student recover more quickly, in a gentle and therapeutic way. Stress reduction either during or after long term illnesscan accelerate healing and bring about a sense of wellbeing. Combing nutrition and yoga can be extremely effective in recovering from any illness or disease. Both nourishing and nurturing the body, mind, and soul. You can search online for the Best Nutritionist Clinic in Stockport or a wellness clinic to get treatment through yoga, nutrition, and naturopathy. Here is a glimpse of some benefits of yoga in your day to day life:
Yoga improves strength, balance, and flexibility. It improves body posture. This, in turn, helps relieve you of body aches due to incorrect posture.
With a consistent bedtime yoga routine, you can attain the right mindset and prepare your body to fall asleep and stay asleep.
Regular yoga practice may reduce levels of stress and inflammation in the body.
Gentle yoga has been shown to ease some of the discomforts of tender, swollen joints for people with arthritis,
Relaxation exercise learned in yoga can help with circulation issues, especially in your hands and feet.
Those who regularly practice yoga, become more conscious about their health and therefore make healthy lifestyle choices.
Yoga is also one of the best ways to calm a disturbed mind and helps in attaining inner peace.
Regular yoga practice may contribute to mental and physical energy, a boost in alertness and enthusiasm, and fewer negative feelings.
It is always recommended to learn yoga under the supervision of a qualified instructor. Especially, if you are learning yoga to cope with illness or manage life with a disease. You should look for a yoga instructor or join a yoga institute to learn it in the right way.