Meditation when practiced regularly not only calms your mind and makes you feel relaxed, but it has beneficial effects on your physical wellbeing as well.
The silence and stillness you experience in meditation are so attractive that you want to continue to feel it. With regular meditation, it teaches you how to go deeper into that silence and stillness each time you meditate. Meditation has been practiced by people for over centuries. It was originally meant to deepen understanding of the sacred and mystical forces of life. It takes a person into a deep state of relaxation and a tranquil mind. It may also result in enhanced physical and emotional well-being.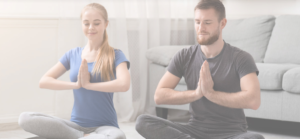 During the pandemic people are not stepping out of home, there are many ways to learn meditation through Online Meditation and Relaxation Classes at the comfort of your home. Some of the holistic treatment providers are also engaged in offering a range of services such as Effective Natural Treatment for Bloating, gut transformation and other problems, online meditation, online wellness coaching and more. There are many places to learn meditation online, including websites, apps, and Online Meditation and Relaxation Classes. Some options are free to use, while others require a subscription or fee. It takes only a few minutes every day. Once meditation becomes part of your daily routine, it let you dive deep into yourself and live an enriched life.