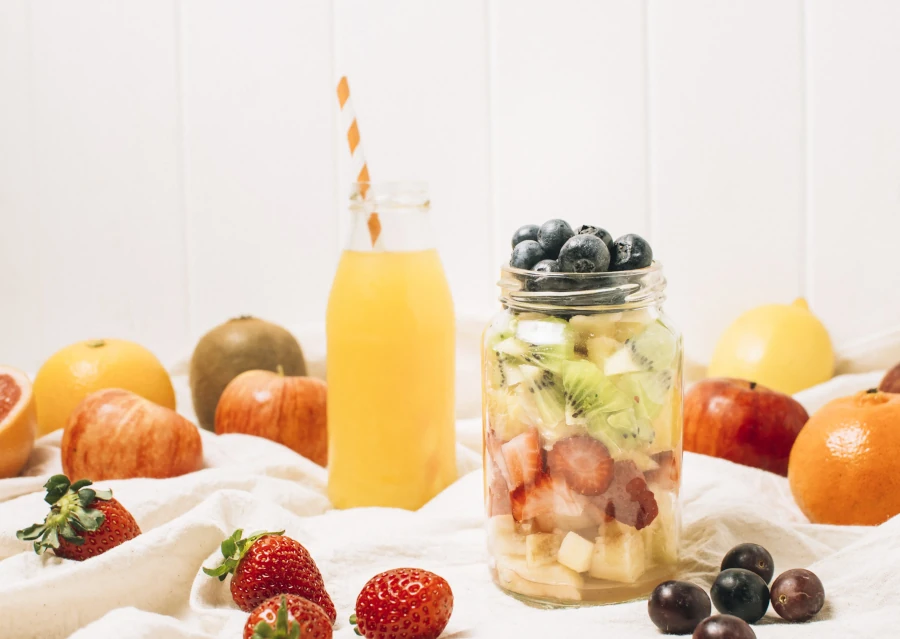 The detox diet is well-liked by young people because it has recently been adopted by celebrities. Through the consumption of juices, fruits, and vegetables, excess toxins already present in the body are removed over a short period of time by changing one's dietary habits. They often last 3 to 7 days.
The purpose of this diet is to promote energy, enhance immunity, improve circulation, and clear your skin. A detox diet typically includes a variety of fresh juices made from various fruits and vegetables.
What is a Detox Diet?
Eliminating toxins and other pollutants from the body is a goal of a detox diet. These "wastes" accumulated in our body throughout time. Allergies, a poor complexion, digestive issues, immunological issues, and even melancholy may be brought on by it. For this diet, a period of fasting was usually followed by a strict diet of uncooked vegetables, water, fruits, and juices. Herbs, teas, vitamins, and colon cleanses were also utilised in some detox diets.
Usually, it involves consuming large amounts of fluids, entire foods, or even fasting for a few days, or maybe even a week or month.
Types of Detox Diet
Here are the types of detox diets
Colon Cleanse
Some cleanses make dietary adjustments in an effort to remove toxins. It entails preparing a mixture of water, cayenne pepper, maple syrup, and lemon juice that must be eaten for at least 10 days. There are also cleanses that aim to remove toxins from the opposite end of the body.
By encouraging bowel motions using supplements or laxatives, colon cleanses aim to remove toxins from the body and cleanse the digestive tract. Colon hydrotherapy, sometimes referred to as a colonic, flushes the colon with water to remove waste and toxins and can enhance general health.
Juice Diet
The juice cleanse, which replaces solely fruit or vegetable juices for the duration of the diet, is probably one of the most well-known detox regimens. Juice and smoothie cleanses typically last three to twenty-one days, however some people go much longer.
Juices made from fruits and vegetables can be quite nutritious for our bodies if they are consumed fresh.
Liver Detox
Another popular trend in the world of cleanses is liver detox. By enhancing liver function, it seeks to give the body's detoxification process a boost. It entails consuming lots of water, juices made from vegetables and fruits, and potassium in moderation.
Detox Diet Benefits
Here are some of the benefits you can expect by doing a detox diet.
Promoting healthy skin and hair
Since our skin is our largest organ, it stands to reason that a detox programme would have a favourable impact on it. Using a sauna to assist the body sweat out additional toxins is one technique to detoxify the body. At the conclusion of your detox regimen, you may see smoother skin.
A healthy, radiant complexion could arise from the removal of pollutants. Detox diets are beneficial for the skin since they may help clear your skin and battle acne-causing bacteria.
Due to the removal of toxins from the follicles, this diet might make hair longer and shinier.
Supporting the digestive system and weight loss
The elimination of pollutants makes it easier for vitamins and other nutrients to be absorbed. Detox diets, on the other hand, are thought to change metabolism, resulting in long-term weight management.
Boost in the immune system
Since more vitamins and minerals are absorbed, the important organs obtain adequate nutrition, which could lead to a stronger and better immune system.
Improved mental state
Additionally, detox diets help with better sleep, mental clarity and attention, and general mental health improvement. It might also aid in reducing or postponing the outward signs of ageing.
Antioxidant content
A wide variety of fruits that are good for our bodies are included in a detox diet. Fruits are loaded with antioxidants including Vitamins A, C, and E, which can help with blood circulation.
Promotes mindful eating
Because you are conscious of what you are putting into your body, a detox diet may help you improve your eating habits.
The concept of a detox encourages a healthy lifestyle since it makes you more aware of your body. It creates harmony in your life.
Detox Diet Plan
You must speak with a nutritionist before beginning a detox diet if you plan to do so. This is a sample of a first-day diet plan you may use.
| | |
| --- | --- |
| Time | Meal |
| 6:00 AM | Wheat Grass Powder (1 teaspoon)Lukewarm Lemon water (1 glass) |
| 9:00 AM | Moong And Chana Sprouts (1 bowl)Cucumber Tomato Lemon Juice Salad (1 bowl) |
| 11:00 AM | Tomato carrot amla juice (1 glass)Almond (5 almond) |
| 1:00 PM | Oats Moong Dal Vegetable Khichdi (1 bowl) |
| 2:00 PM | Cucumber Lemon Detox Water with Mint (1 glass) |
| 4:00 PM | Mixed Fruit Bowl (1 bowl) |
| 5:30 PM | Mixed nuts(20 grams)Green Tea without Milk and Sugar (1 tea cup) |
| 8:00 PM | Boiled Kidney Bean Vegetable Salad (1 bowl) |
| 10:00 PM | Lemon Ginger Mint Tea (1 teacup) |
The fundamental concept stays the same: to cleanse our body by fueling it with organic foods like fruits and/or vegetables. Additionally, it can help you cut back on sweets, saturated fats, animal products, and processed foods. You must avoid coffee, tobacco, and alcohol when following this diet.
If you want to try a detox program diet plan and are ready to improve your health, go to the Inner Health Clinic in Stockport, Manchester. A certified nutritionist who works at the clinic can help you with your needs. You can call 07712 620909 or send an email to [email protected] to schedule an appointment.