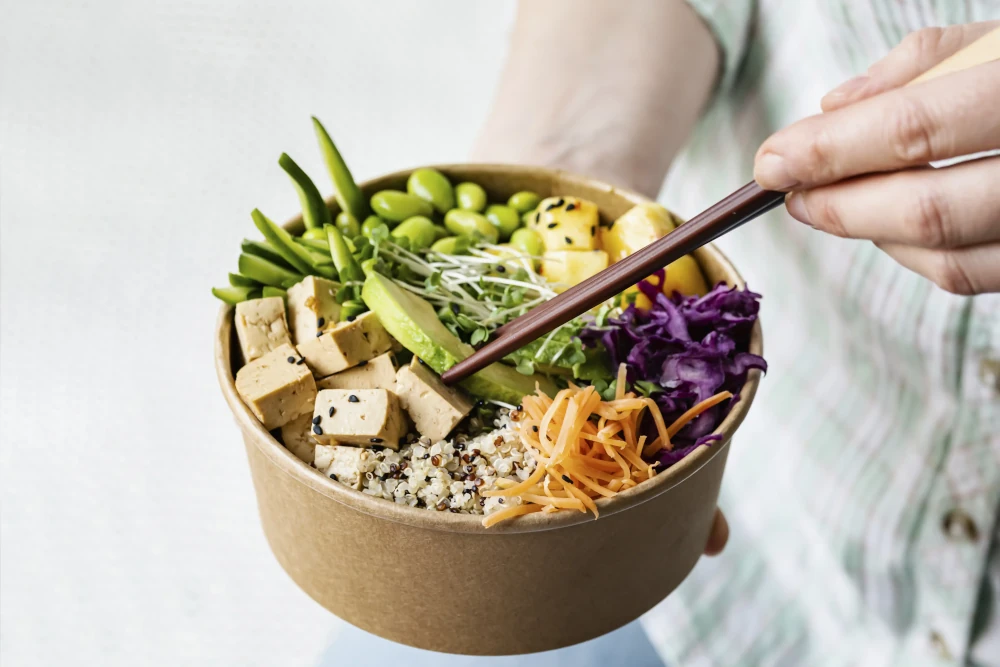 It has been established over many years that a plant-based diet can significantly lower your chance of developing cancer. It is based solely on plant-based foods, such as fruits, wholegrains, legumes, nuts, and seeds, and excludes all products originating from animals. This eating plan is distinct from a vegan one, which forgoes any animal products like wool, silk, beeswax, leather, and fur.
Plants have a lot of fibre. The majority of plant-based foods, including fruits, vegetables, beans, nuts, seeds, and grains, include fibre. The body can access the advantages if you consume more fibre, which forms the structure of the plant.
What is a Plant-Based Diet?
The term "plant-based" also refers to eating practices that prioritise foods derived mostly from plants. It also contains seeds, nuts, oils, whole grains, beans, and legumes in addition to fruits and vegetables. You are not necessarily vegetarian or vegan if you never consume meat or dairy. You only select more items that come from plant sources. Animal products including meat, milk, eggs, and honey are not allowed in this diet.
Our bodies can function well and maintain good health if we adopt a plant-based diet and lifestyle.
Plant-Based Diet Benefits?
Here are some benefits of a plant-based diet.
Heart disease, colon cancer, and type 2 diabetes can all be prevented by eating a plant-based diet
Your risk for other diseases decreases with a plant-based diet. Eating a plant-based diet entails consuming more fruits, vegetables, and entire grains. The advantages of eating primarily vegetables extend beyond lowering your risk of developing cancer.
With less saturated fat and more unsaturated fat and fibre, plant-based diets are better for heart health and lower the risk of cardiovascular disease, obesity, and type 2 diabetes.
Reduced arthritic pain
With arthritis, a plant-based diet is undoubtedly a smart option because it reduces inflammation in the body. It's not necessary to stop eating animal products in order to eat more plants.
Lower levels of 'bad' cholesterol
Consuming a plant-based diet can lower levels of LDL cholesterol, also known as our "bad cholesterol," and tends to be lower in saturated fats.
Plant-based fibre is important for maintaining healthy bowel habits and can decrease cholesterol and stabilise blood sugar.
Improved gut health
A plant-based diet helps your gut and allows you to absorb nutrients that strengthen your immune system and lower inflammation.
Additionally, it can make it simpler to consume the 30g of dietary fibre per day that is advised in order to promote gut health.
Keeps your brain sharp
By increasing your intake of plant-based foods like berries and green leafy vegetables while reducing your intake of animal products and foods high in saturated fat, you may be able to halt the progression of heart failure and ultimately reduce your risk of dementia and cognitive decline.
Healthy weight
An entirely plant-based diet aids in keeping a healthy weight. Those who follow a plant-based diet consume less energy, total fat, and saturated fat than those who do not.
Being high in fibre will also prolong your feeling of fullness because fibre takes time to digest. It might help you stop eating more frequently, which would lower your consumption of calories.
How a Plant-Based Diet Works?
Plant-based foods need to take precedence in all of your meals. It prioritises and restricts foods like meat, dairy, and eggs while emphasising foods like fruits, vegetables, and beans.
No food is necessarily nutritious just because it is made from a plant. A plant-based diet focuses on consuming fewer bad plant foods and more nutritious ones.
Depending on how stringent you want to be, you might impose even more limitations. Depending on the contentment of the individual, you may be able to decrease your intake or entirely stop eating animal products. Additionally, you might want to reduce how frequently you consume items like meat and seafood.
To help those who want to eat a plant-based diet here are some helpful tips:
Choose plant-based proteins like beans, lentils, and tofu in place of or in smaller quantities than meat.
Aim for at least 1-2 servings of fruits and vegetables at each meal.
Reduce your intake of fatty, sugary, and salty meals and beverages such crisps, sodas, mocha, sweets, cakes, and other desserts.
Choose whole grains instead of processed ones.
Consume unsalted seeds and nuts.
Use plant oils that are high in unsaturated fats, like rapeseed or olive oil.
Use fortified substitutes, such as fortified soy drinks, when substituting or restricting dairy products.
Always examine the nutrition label and select kinds low in salt if substituting or restricting meat with plant-based meat alternatives.
We must identify foods and meals that you like and can eat regularly if you wish to switch to a healthy plant-based diet.
Plant-Based Diet Food List
Fruit
| | | | |
| --- | --- | --- | --- |
| Apples | Grapefruit | Peaches | Papaya |
| Avocado | Grapes | Pears | Dates |
| Bananas | Honeydew | Pineapple | Watermelon |
| Blackberries | Kiwi | Plums | Oranges |
| Cantaloupe | Limes | Raspberries | Cranberries |
| Cherries | Mangoes | Strawberry | |
Vegetables
| | | | |
| --- | --- | --- | --- |
| Arugula | Celery | Mixed greens | Spinach |
| Asparagus | Collard greens | Mixed lettuces | Squash |
| Beets | Corn | Okra | Sweet potatoes |
| Bell peppers | Cucumber | Onions | Swiss chard |
| Broccoli | Eggplant | Potatoes | Tomatoes |
| Brussels sprouts | Green beans | Radishes | Zucchini |
| Cabbage | Kale | Romaine lettuce | |
| Carrots | Leaf lettuce | Scallions | |
| Cauliflower | Leeks | Shallots | |
Whole Grains
| | | | |
| --- | --- | --- | --- |
| Amaranth | Buck | Quinoa | Barley |
| Whole grain bread | Whole wheat | Rye | Whole grain pasta |
| Brown rice | Oats | Sprouted grain bread | Millet |
Legumes
| | | | |
| --- | --- | --- | --- |
| Black beans | Black eyed peas | Chickpeas | White beans |
| Edamame | Field peas | Kidney beans | Sugar snap peas |
| Lentils | Lima beans | Navy beans | Red beans |
| Pinto beans | Snow peas | | |
Nuts and Seed
| | | | |
| --- | --- | --- | --- |
| Almonds | Pecans | Peanut butter | Walnuts |
| Almond butter | Pine nuts | Peanuts | Sunflower butter |
| Cashews | Pistachios | Hemp seeds | Sunflower seeds |
| Cashew butter | Pumpkin seeds | Flaxseed | Sesame seeds |
| Chia seeds | | | |
Sweeteners
| | | | |
| --- | --- | --- | --- |
| Black strap molasses | Apples/Applesauce | Dates | Stevia |
| Coconut sugar | Maple syrup | Honey | |
Refrigerated / Frozen
| | | | |
| --- | --- | --- | --- |
| Earth Balance vegan buttery spread | Vegenaise | Hummus | Unsweetened almond milk |
| Unsweetened Cashew milk | Unsweetened coconut milk | Frozen whole fruits and veggies | |
Seasonings / Flavorings / Condiments / Oils
| | | | |
| --- | --- | --- | --- |
| Black pepper | Nutritional yeast flakes | Spices (cinnamon, ginger, parsley, basil, garlic powder, etc.) | Vinegars (apple cider, rice, red wine, balsamic, etc.) |
| Bragg Liquid Aminos | Pure vanilla extract | | |
A 7 Day Sample Menu for a Standard Plant-Based Diet?
A sample menu for a week of healthy eating on a plant-based diet.
Day 1
Breakfast: Quinoa with raisins and cinnamon and soy milk
Lunch: Stir-fry with veggies and tofu
Dinner: Vegetarian chili and spinach-orzo salad
Day 2
Breakfast: Plain oatmeal with walnuts and fruit with unsweetened almond milk
Lunch: Lentil tacos with a salad
Dinner: Italian-style zucchini and chickpea saute
Day 3
Breakfast: Handful of nuts (pecans, almonds, walnuts) and fruit
Lunch: Grilled tofu with quinoa and a salad
Dinner: Black bean and sweet potato quesadilla
Day 4
Breakfast: Pancakes or waffles with fruit puree
Lunch: Lentil soup and a side salad
Dinner: Grilled vegetable kabobs with grilled tofu, and a quinoa and spinach salad
Day 5
Breakfast: Tofu scramble with veggies
Lunch: Pasta with marinara sauce and a salad or vegetable
Dinner: Vegetarian pizza and tomato soup
Day 6
Breakfast: Overnight oats and fresh fruit
Lunch: Black bean burger and kale salad
Dinner: White bean chili and corn muffins
Day 7
Breakfast: Smoothie with banana, pea protein, soy milk, and cacao powder
Lunch: Tomato basil soup and greek salad with chickpeas and feta
Dinner: Rice bowl with kidney beans, spinach, and mixed veggies
Visit the Inner Health Clinic in Stockport, Manchester if you're determined to improve your health and want to give a plant-based diet a go. The clinic has a qualified nutritionist who can assist you with your needs. To make an appointment, you can contact 07712 620909 or send an email to [email protected].