Your bowel movements are affected by many different factors, such as your lifestyle, eating habits, age, and gender. While there is no fixed number of bowel movements a person should have in any given day. It is ideal to have at least one movement, to be sure your toxicity is being eliminated on a daily basis and not backing up and putting your liver under pressure. If your bowel opens three or fewer times per week, this would be considered abnormal, although some doctors with their limited time and perhaps knowledge will say that this is just how your body is. A well functioning body with the correct diet and lifestyle, will eliminate its waste on a daily basis. Ideally two to three times a day. If constipation is making life difficult for you, try these effective natural treatments for constipation that may help you get some relief: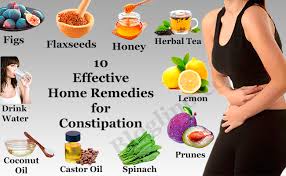 Dehydration is one of the most common causes of constipation. Keeping yourself hydrated is one of the simplest and most Effective Natural Treatments for Constipation. Health experts usually recommend drinking around eight 8 medium sized glasses a day, about 2 litres. If you struggle to consume a large volume of water in one go then try sipping water constantly throughout the day, even if you do not feel thirsty. Adding lemon juice which contains citric acid will help to stimulate your digestive system and eliminate toxins from your body. It can be very useful in overcoming constipation. I recommend squeezing half a lemon onto your water each day. It's best for your liver if the water is warm rather than cold. You can also add lemon to your tea, or try lemon and ginger herbal teas with extra lemon added for assisting your bowel and helping with constipation.
Eating enough fibre also considerably contributes to a healthy digestive system as well as weight loss. It is recommended to take at least 25 to 30 grammes of fibre on a daily basis. It can be a soluble or insoluble fiber. Soluble fibre provides stool density, while insoluble fibre can contribute to the pace at which it moves through the colon. A lack of fibre in the diet can result in harder, more compact stools, which take longer to pass through the system. In addition, bulk provided by fibre helps stimulate peristalsis.
The Omega-3 oils in fish oil, hemp seed oil, and flaxseed oil help to lubricate the intestinal walls for a natural and gentle laxative effect. Try introducing avocados, flaxseeds and hemp into your diet so you can naturally introduce these oils to your digestive system.
Constipation can be relieved by lifestyle changes like eating a balanced diet, drinking enough water, daily exercise routine, and stress reduction.
If you've tried all this and are still struggling with constipation and other digestive health problems, you can book in for a free online health consultation to discuss the best approach for you. Colonic hydrotherapy, also known as colonic irrigation is one of the most effective natural treatments for constipation. It not only helps you to get relief from constipation, but can be immensely helpful in improving the overall quality of your life.